Maintenance


As furniture ages, it inevitably picks up the scratches, dents, rips, and stains that come with daily use. We can return your existing furniture to a like new condition with fresh paint, new fabric, or sometimes just a good cleaning.
Maintenance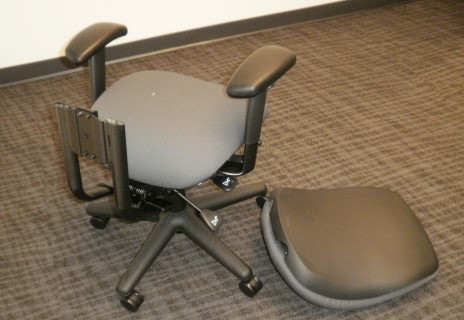 Our chair technician can help repair and find parts for out of warrantee product. We can install replacement pneumatic cylinders, change out tilt mechanisms, or just replace broken castors.
We offer on site panel and upholstery cleaning. Sometimes all that is needed to return a cube to a "like new" appearance is a good cleaning. Panel fabric picks up dirt and dust though every day use, not to mention the ink or coffee stains. Not every stain will come out, but results can be surprisingly good. Work surfaces can be cleaned, and paint touched up to hid dings and scratches. We can work after hours to avoid disruptions from chemical smells. We can also take furniture back to our shop for a complete refurbishing.
We have access to a large inventory of used furniture from many different manufacturers, so we have a ready source for parts and pieces that may need to be replaced. What we don't have in stock, we can often track down.
Refurbishing
We can provide a green alternative to buying new furniture; new paint and fabric. On site or at our warehouse, see what we can do for you here.
Replacement Keys
CubilceKeys.com is our online source for replacement keys and lock cores. Learn more here.